FGASA Nature Enthusiast Certificate Program – 18 to 29 June 2018
FGASA Nature Enthusiast Certificate Program – 18 to 29 June 2018
FGASA Nature Enthusiast Certificate Program
Have you always wanted to attend a FGASA guiding course, but you haven't relished the idea of the pressure of a practical game drive assessment with guests?
Do you love the learning, but prefer to do it without having to actually go and become a guide?
Well we have an opportunity for you. All the learning and fun, without the pressure!
People of all ages and experience levels are welcome on this program!
We invite you to join our very first FGASA Nature Enthusiast Certificate Course, which will begin on the:
18th of June 2018, and end on the 29th of June 2018
This course is specifically designed for those of you who are NOT intending to become a full time professional in the field guiding industry. This is an ideal program for the nature lover, game lodge visitor or bush home owner, frequent hiker and bird enthusiast! In fact anyone who loves wild life and yearns to learn more will fit in perfectly with this program!
To try and keep this cost effective, and to allow it to fit in with the leave time most people get during a year, we will be limiting this to a 12-day, 11-night experience.
This means that it is very important for you to order you books from FGASA early, and do plenty of reading in preparation for this course. Otherwise the work load may be a little daunting. As mentioned, this course is for non-guides who wish to become Associate members with FGASA. Please note that you will not be the holder of a National Qualification at the end of this course, but a FGASA Nature Enthusiast Certificate.
We will explore on foot, go bird watching and view mammals whilst on safari
Please note: There IS, however, a written theoretical examination, but there is NOT a practical simulated game drive assessment.
To be eligible for the Nature Enthusiast Certificate:
You must be a currently paid-up Associate member with FGASA (you simply go to the FGASA website for details on how to join the association and get registered!)
No other qualifications are required to do this certificate
To attain this certificate, you will have to be declared competent (during the course) for the:
Nature Enthusiast Certificate Workbook (which you are sent when you register for the program by FGASA)
Nature Enthusiast Certificate Theory Examination (we will get these exams and you will be tested at our camp at the end of the course)
This Certificate does NOT form part of or have any relevance to the FGASA Field Guide (NQF2) [L1] qualification as it is a completely separate non-guiding knowledge Certificate.
For the next while in our bush camp, called Ngala Training Camp (Ngala means lion in the local language) a typical day consists of an early wake up and a light self-service breakfast of rusks, cereal, fruit, toast, coffee and tea. Then we will gather our cameras and binoculars, as this meal is followed by a morning activity lasting until 10-10:30 AM.
Morning activities include the following options:
A drive on our open-topped 4×4 bush vehicles learning as we go
Botanical walks, learning the keys of tree and plant identification
A guided walk with armed guides leading the way in search of an on-foot experience viewing elephants or lions (or other game animals)
Track and sign interpretation sessions
Following the trail of a herd of elephants, a pride of lions, a leopard, a rhinoceros, or other animals
A peaceful morning at a specially chosen sit spot on the banks of a beautiful river to observe wildlife and bird language and reflect upon the experience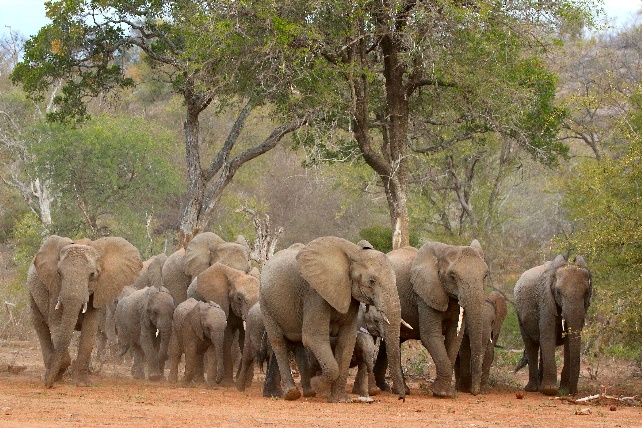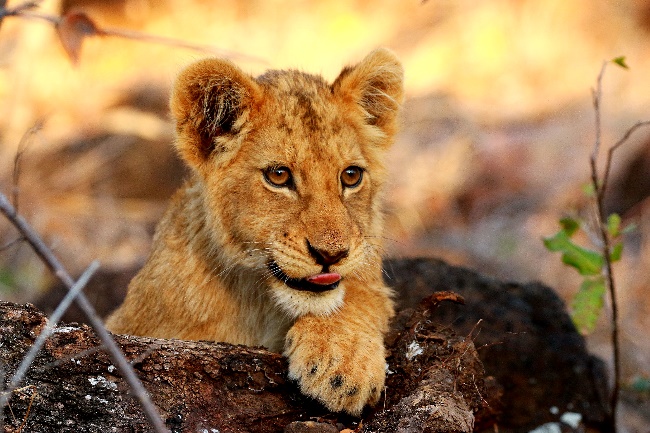 A herd of elephants come to drink at a waterhole in Balule, and a lion cub which was photographed just a few hundred metres from Ngala Camp with its family
Once the morning activity is completed we shall return to camp for a hot brunch, which should satisfy our hunger nicely. At Ngala Camp, at any time, if hunger strikes, there are always options of fresh fruit, sandwiches or a cup of coffee and cookies throughout the day at our snack station.
Spotted hyenas are seen at ngala Camp, and often heard, and the magnificent purple crested turaco frequent the river valley
After brunch there will be a mid-day group activity, lesson or time for journaling, siesta, or quiet wildlife observations. Around 3 – 3:30 pm we begin an afternoon activity that often lasts until after sunset, spotlighting for nocturnal wildlife along the way back to camp, arriving to a wholesome hot meal and discussion of the day's activities around the campfire. Some evenings will include a lecture.
Morning, mid-day and afternoon activities can include:
Game drives in open-air safari vehicles to observe wildlife
Track and Sign Identification and Interpretation on walks and drives
Trailing of an animal in intimate groups
Bush walks focusing on observing the little things that weave together an ecosystem
Micro safari's
Encounters on foot with charismatic megafauna
Sit-spots and related discussions
Bird language and related discussions
Track casting
Paleo-anthropological and human history discussions
Bush skills sessions
An evening sundowner stop at a beautiful viewpoint around sunset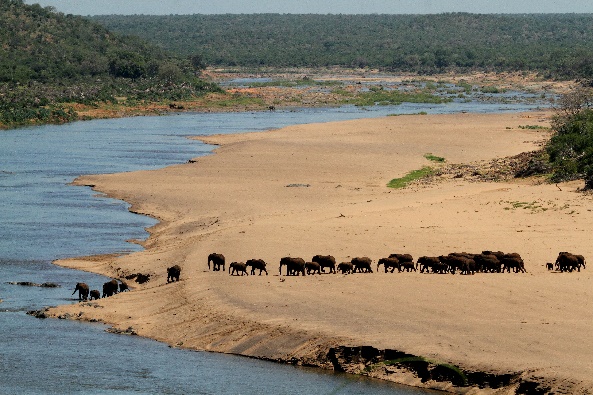 A greater kudu cow feeds on a long-tailed cassia seed pod, and a herd of elephants cross a sand flat on the Olifants River
Night time activities can include aspects such as:
Socializing around the campfire and sharing tracking stories
Astronomy sessions focusing on the African sky
Lectures and lessons
Night drives
Searching for scorpions with UV lights
Presentations by your hosts
Our rustic tents at Ngala training Camp and a Nile monitor lizard
Ngala Training Camp is in the Balule Private Nature Reserve. It is a very simple and beautiful camp, with dome tents, mattress-beds, eco-friendly bucket showers, water heated by donkey-boiler and flushing toilets. We provide generator electricity for only a couple of hours a day for charging up – there is limited signal for cell phones (both Vodacom and MTN). Our camp is situated right on the banks of the Olifants River. It is the perfect environment to immerse yourself in nature and all she offers without the distraction of the outside world and social media!
Costs include:
Food and shared accommodation
Expert tuition
Safari experiences both on foot and by vehicle
Ground transportation to and from Hoedspruit if required on first and final day of the program – please arrange in advance
Lessons and discussions
Use of the camp library
Traversing within the greater Kruger National Park
Costs exclude:
Flights or other travel to Hoedspruit
Visas if required, passports and pre-departure arrangements
Gratuities for lodge staff, drivers or guides
Personal effects such as toiletries and curios
Alcoholic and soda type beverages
FGASA registration and other FGASA fees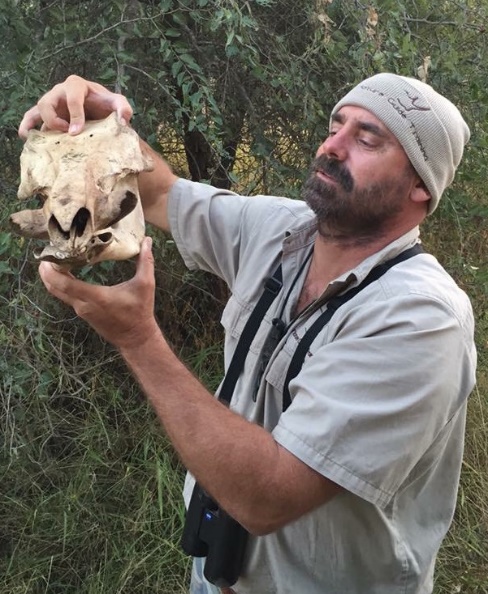 About Your FGASA Instructor
Lee Gutteridge will be leading this program and he has spent all of his adult life in the African bush and South Africa, Rwanda, Zambia, Zimbabwe, Namibia, Kenya, Tanzania, Uganda, Ethiopia and Botswana are some of the African countries where he has worked, taught and guided. With more than 25 years of dirt-time, Lee is currently the one of the highest qualified field guides in Southern Africa (a Scout guide on the FGASA system, with many additional specializations) and the author of six published natural history books. Lee's career with Nature Guide Training began over fifteen years ago as a training school for field guides in the safari industry in Southern Africa and has a well-earned reputation as an industry leader whose graduates are employed by some of the finest lodges across Africa. As a respected guide and trainer of guides, a Senior Tracker and a wildlife author, Lee will educate and inspire you with passionate tales of African animals, wildlife trails and close escapes.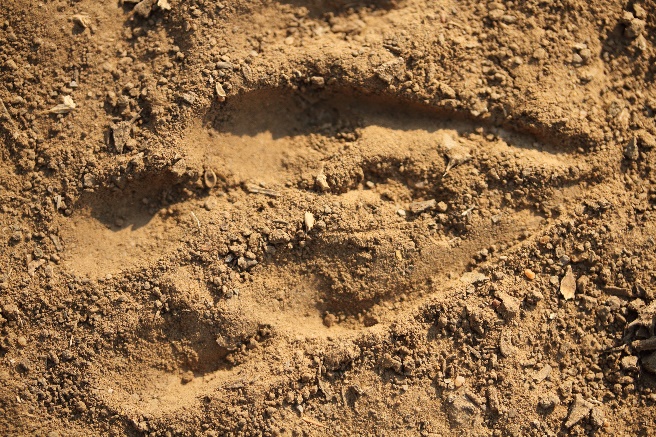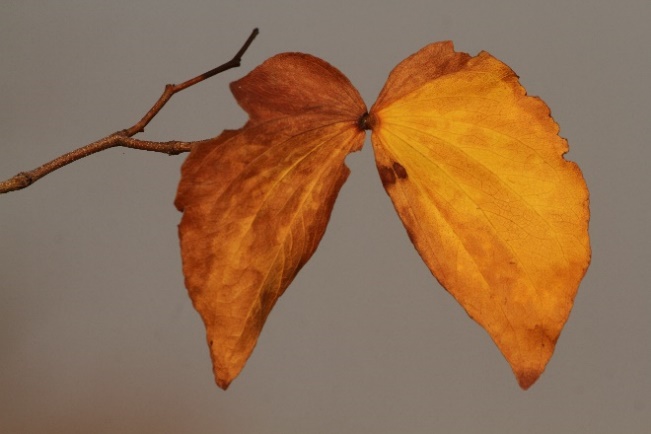 Tracking and botany also make up a portion of this course
The cost of this program is R13725 per person
(For this program to run we need a minimum of 6 participants)
Nature Guide Training is a FGASA Endorsed training provider
To book this experience with us please contact Lee
Email lee@natureguidetraining.com
Further information on registering with FGASA: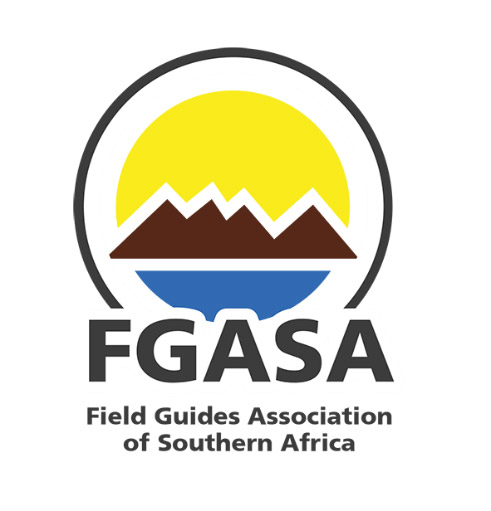 Associate Membership fee: R 1000.00 (Includes Registration, Annual Subscription, workbook and learner Manual, examination fee & postage) Free attendance at FGASA talks, Email newsletters and Electronic Field News Magazine and Discounted book prices, Membership card and Nature Enthusiast Certificate when competent.
www.fgasa.co.za