Bushveld Birds – Winter Session – 17 to 21 July 2018
Bushveld Birds – Winter Session – 17 to 21 July 2018
Bushveld Birds – Winter Session – 17 to 21 July With Lee Gutteridge
African hoopoe, brown-headed parrot and Emerald-spotted wood-dove are common
Birdlife in the Bushveld winter is still excellent (in spite of the loss of our migrant species), and includes interesting residents such as bateleur, white-headed vulture, dark-chanting goshawk, barred owlet, trumpeter hornbill, southern ground hornbill, brown-headed parrot, green-backed camaroptera, sabota lark, Kurrichane buttonquail and Stierling's wren-warbler. Waterbirds along the Olifants River include species such as African fish eagle, African openbill, black stork, African spoonbill, black-winged stilt, the uncommon white-crowned lapwing and beautiful giant kingfisher. These are but a few of the three hundred or more species which call this place home.
Lion and buffalo are often seen
African openbill, yellow-billed stork and the regional special, the white-crowned lapwing
As you can imagine, being situated within the Greater Kruger National Park also gives us wonderful opportunities to view mammals such as lions, cape buffalo, elephants, giraffes, kudus, Sharpe's grysbok's, side-striped jackals, sable antelopes, hippopotami and spotted hyenas and maybe even hard to find species such as wild dogs or a leopard.
This instructional experience is led by the Nature Guide Training team of wildlife experts and field guide instructors, with FGASA SKS qualifications in Savanna birds. Please see the 'Our Team' page for more information.
As nature lovers we do not tend to ignore any aspect of the environment, although a special focus will of course be on the birds of the area.
You will need a sleeping bag and a pillow as these are not provided, although tents and plenty of mattresses are already set up for you. You will also need a good pair of binoculars and sturdy walking shoes. All meals as per the program are provided, including early breakfast, brunch and dinner. Coffee, tea and drinking water and dilute cool drinks are also provided. Other drinks that you wish to bring (such as beer, wine or sodas at your own cost) can be stored for you in our fridge.
The days will be filled with early morning birding;
Morning, afternoon and evening safari drives spent looking for birds and mammals;
Nights around the camp fire enjoying the sounds of nature.
good company of like-minded nature lovers
The lilac-breasted roller, southern yellow-billed hornbill and a bateleur
We will also touch on the regional ecology and geology as it pertains to the local avifauna and even give an insight into bird tracks and signs!
This experience is limited to a minimum of 6 and a maximum of 10 guests, so please book soon to avoid disappointment.
Pearl-spotted owlets and southern ground-hornbills are found at Ngala Camp
Approximate Program
(this program is subject to minor amendments)
Day 1 – 17 July
Arrival at 12h00 in Hoedspruit
Lunch at own cost at Sleepers Restaurant in Hoedspruit, then depart towards camp (about 1 hour and 20 minutes' drive on good dirt roads). Discussion regarding safety in camp Allocation of tents Issue camp bird lists. Afternoon orientation drive on our Nature Guide Training 4×4 Game Viewer to see the 'lie of the land' and explore a variety of habitats. Evening braai, with stories around the campfire before bed.
Day 2 – 18 July
Early wake up and coffee and a light breakfast (toast, rusks, fruit).
We will take a morning birding walk along the Olifants River (with an armed guide), searching for interesting species of birds in this riparian habitat.
Brunch will be at around 10h30, followed by a midday rest and ablutions.
In the afternoon we will drive into a different area of the reserve, searching for birds and other wildlife, returning for the evening meal around the campfire at about 7 PM.
Then we will recap on our lists and enjoy some wildlife discussions before bed.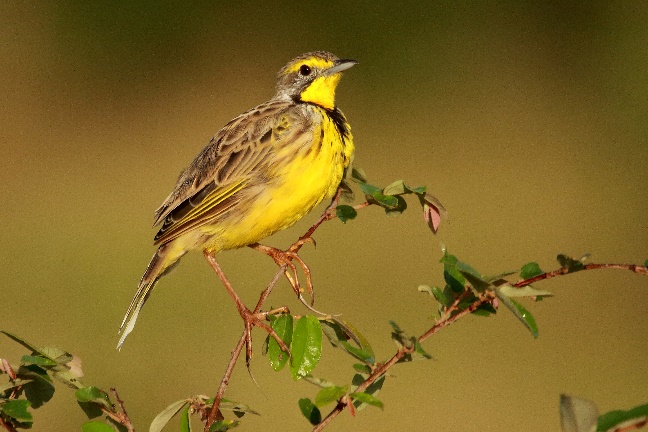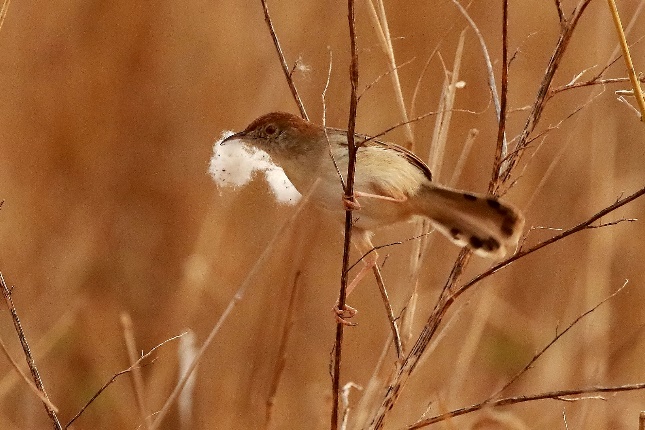 Yellow-throated longclaw and rattling cisticola are found in the region
Day 3 – 19 July
Early wake up as usual, with coffee and light breakfast.
Morning birding drive, trying to add to our species lists, and discussing some of the ecological principles connected with birds in our region.
Brunch will be followed by a midday rest and ablutions, with a little birding around camp in the hotter hours.
Our afternoon walk into the hills around camp to bird will also be supplemented by a discussion on bird track and sign and a special afternoon focus on "bird language" in the natural environment.
Around sunset we will head to camp for an evening meal and some campfire discussions before bed.
On safari, and a male brown-hooded kingfisher
Day 4 – 20 July
Early wake up with coffee and light breakfast, followed by a drive to a new area for our morning birding walk, searching the dry bush deep into the quartzite hills for opportunities to find special new creatures.
Brunch is followed by a midday rest and ablutions, with an afternoon photography drive looking at birds, bird-mammal interactions, and seeing if there are any larger faunal subjects around with which we can spend some time. In the evening after our meal we will head out on a Night Drive before returning to camp for a well-earned rest.
A green-backed camaroptera, double-banded sandgrouse and a red-billed oxpecker
Day 5 – 21 July
Today after the usual breakfast, we will head out on a final morning drive, to search the area for a few last species to add to our lists before we say goodbye Brunch Departure for Hoedspruit
Costs
R4100 per person (including meals and shared accommodation) plus a Gate fee R165 per vehicle
Minimum of 6 participants. Please inform us of any food allergies well before the course and vegetarian meals are also available with prior arrangement
Black-winged stilt, kurrichane thrush and blue waxbill are all found here
Costs include:
Food and accommodation
Expert tuition
Safari experiences both on foot and by vehicle
Ground transportation to and from Hoedspruit if required on first and final day of the program – please arrange in advance
Lessons and discussions
Costs exclude:
Flights or other travel to Hoedspruit
Visas if required, passports and pre-departure arrangements
Gratuities for lodge staff, drivers or guides
Personal effects such as toiletries and curios
Alcoholic and soda type beverages
The Stierling's wren-warbler is a resident and special species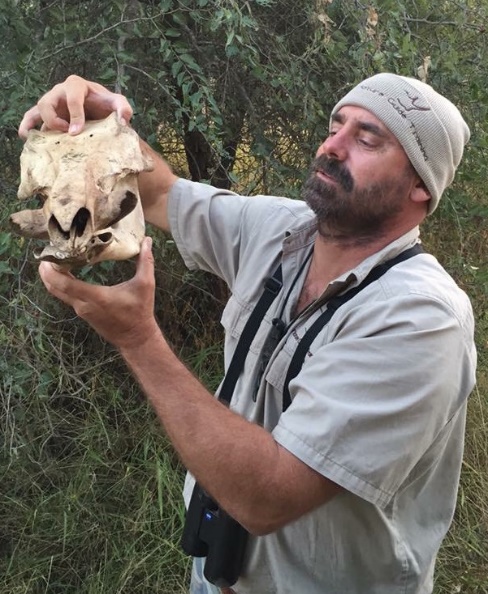 About Your FGASA Instructor
Lee Gutteridge will be leading this program and he has spent all of his adult life in the African bush and South Africa, Rwanda, Zambia, Zimbabwe, Namibia, Kenya, Tanzania, Uganda, Ethiopia and Botswana are some of the African countries where he has worked, taught and guided. With more than 25 years of dirt-time, Lee is currently the one of the highest qualified field guides in Southern Africa (a Scout guide on the FGASA system, with many additional specializations) and the author of six published natural history books. Lee's career with Nature Guide Training began over fifteen years ago as a training school for field guides in the safari industry in Southern Africa and has a well-earned reputation as an industry leader whose graduates are employed by some of the finest lodges across Africa. As a respected guide and trainer of guides, a Senior Tracker and a wildlife author, Lee will educate and inspire you with passionate tales of African animals, wildlife trails and close escapes.
This course will be presented at Nature Guide Training's base at Ngala Tented Bushcamp on the Balule Private Nature Reserve. It is a very simple and beautiful camp, with dome tents, mattress-beds, eco-friendly bucket showers, water heated by donkey-boiler and flushing toilets. We provide generator electricity for only a couple of hours a day for charging up – there is limited signal for cell phones (both Vodacom and MTN). Our camp is situated right on the banks of the Olifants River.
The cost of this program is R4100 per person
(For this program to run we need a minimum of 6 participants)
Nature Guide Training is a FGASA Endorsed training provider
To book this experience with us please contact Lee
Email lee@natureguidetraining.com
A family of Swainson's spurfowl perch on a fallen log